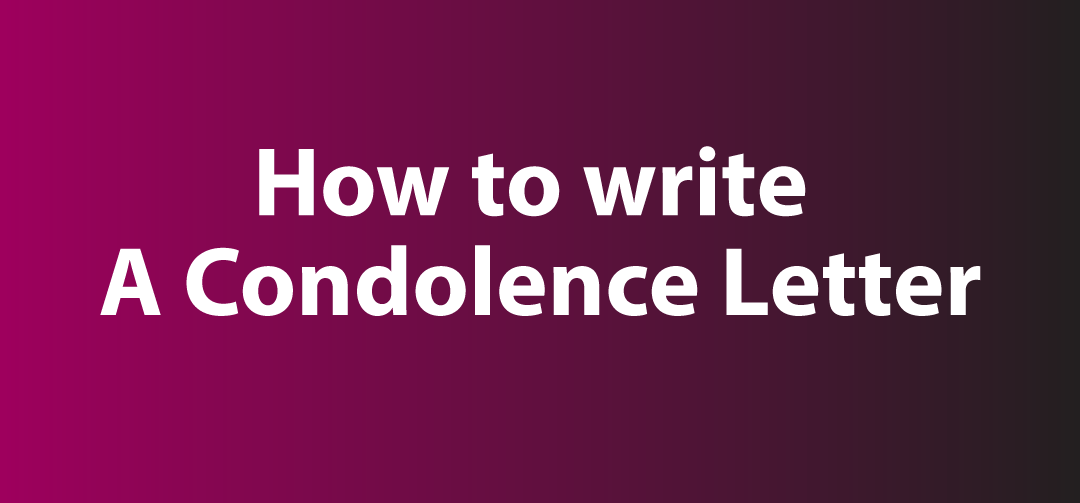 Condolence Letter is a letter written to show sympathy towards someone's loss either personal, economical or any event which may require so . It also conveys other emotions like affection, brotherhood, consolation, nostalgia. Use of prayer in such a letter is goodwill gesture .
Condolence Letter Writing Tips :
How to start a Condolence LetterStarting a condolence letter should be a step by step procedure and you shouldn't begin then and there. Observe the formats and templates to know what comes when and where? The main part however is the body but to even do that you have to draft the letter first. Drafting provides you a framework and helps you in arranging the contents and their placement.
Draft Condolence Letter
In drafting the first thing you need to do is – acknowledge the loss but do not dwell on the cause of death or any previous pain and suffering
Describe your relationship with the deceased and how his presence and or absence affects you
Share certain unique memories of the deceased highlighting the qualities of the person
Offer your help and support but don't make promises you can't keep.
Extend your condolences to other members of the family
Close with an expression of affection and support
Words to begin the Letter – There are certain words which can be use as the starting line for your letter of condolence. These can guide you in starting the letter and provide you inspiration to write down the full fledge letter. The body of the letter should begin compassionate and considerate words. Fore mostly start with acknowledging the demise. Analyse a combination of lines and come up with the best you think. Be original and write what comes in your mind. If you are not able to come up with words do not fret too much over it, this is not a competition, stick to conventional language which can be taken from condolence cards available in market or any other source like our feature here.
I / we was / were deeply saddened to hear about the passing / death of……
I / we was / were so saddened to hear about the loss of your…..
It was a shock to hear about the passing of…..
I / we are so sorry to hear the news about your……….
I / we, was / were very stunned to learn about the death of your…..
I / we, am so sorry to know that your…….passed away last week……
Apart from these, many of the Sympathetic Words provided below can also be used to start a letter of condolence.
Sympathetic Words – Sympathetic words are common in sympathy letters but certain arrangements of words are more suitable for one or the other type of letters. Depending upon the intimacy you have with the receiver, you have the liberty of using terms which are deemed fit. For example if the receiver is your girlfriend you can be more intimate as compared to writing to a distant relative. For your convenience these have been placed separately though you can use your own imagination to customise them as per your liking.
| | |
| --- | --- |
| Lines for Informal Condolence Letter Writing | Lines for Formal Condolence Letter Writing |
| At times like these it is difficult to see all the love that surrounds you. I am here to let you know that I love you and will be here when you want to see me. | Although I/We did not have an occasion to make a personal acquaintance with him, I/We have heard that he was very much esteemed. |
| Always in our hearts. He/she was too young to leave us. | As the whole industry knows, he was not only a great industrialist, but also a philanthropist and his contributions to our/your organization are memorable. |
| Focus on your children. Their smiles will be the best medicine you could receive at a time like this. We are here for you. | He was a source of strength and inspiration to many other entrepreneurs. |
| Gone from our sight, but never from our heart. | He was the father of our/your organisation and the fountain-head of all progressive ideas |
| I am always here for you. | He was not only a leading industrialist but a thorough gentleman also. |
| I am holding you tight during this time of loss and I will always be here for you. | He was a remarkable person and will always be remembered by all friends and acquaintances. |
| If my hug was strong enough to take away your pain, I would start now and never stop | He was such an unmatchable personality that it would be difficult for our/your organisation to fill the gap. |
| I / We know you will get through this. You are a survivor. I hope you know you are not alone. My condolences. | His remarkable achievements, in such a short span of time, indeed speak of his creditable performance |
| Just know that my arms are wrapped around you during this time of loss. I love you | I am sure your employees too will be quite distressed at his demise |
| May the sorrow you feel in your heart lighten by the love that surrounds you | I/We have had the honour of meeting him personally. And I/We have always cherished the memory of that meeting |
| May memories comfort you and bring you peace during this very difficult time | I/We sincerely hope that the relations, I/We had with him, be maintained even after his departure. |
| May the love you feel around you help ease the ache in your heart. My condolences | It is indeed very difficult to fill the gap, created by his sudden death |
| My / Our prayers and thoughts are with you and your family | My/Our colleagues join me in sending their deepest condolences on this occasion |
| Please accept my/our condolences. Losing a loved one is never easy | May his soul rest in peace and guide in the years to come. |
| The heart remembers most what it has loved best. May memories comfort you and bring you peace | May God give his family the strength to bear this sudden shock |
| Their greatest joy was making others happy. You are blessed to have had him/her in your life for so long | Please accept my/our sincerest sympathies on this sad occasion |
| This planet will not be the same without (name) | Please convey my/our heart-felt condolences to his/her family |
| This is a period in our lives where I/We wish I/We could turn back time. My/Our life will never be the same. He/she was a gift from God | Since words cannot really express my/our feelings, at this time, I/We send our heart-felt condolences |
| We/I wish you strength during this hour. We/I love you | Some of his pioneering work will go a long way in benefiting the future generations |
| Words fall short of expressing My/Our sorrow for your loss. There are no words to describe how sorry I am for your loss | The gap left behind by the deceased is difficult to be filled |
| Words could never express the pain I/We feel in My/Our heart at a time like this. I/We ache for you and the loss you are feeling. My/Our condolences | The tremendous progress our/your firm has made under his astute guidance is a tribute to the departed soul |
| I acknowledge your loss, and in some measure, I share your pain | That he built up such a big enterprise from scratch speaks of the great talents and business |
| | We/I hope that the tree he has planted flourishes and bears many more fruits in the years to come |
| | We/I share your sorrow and pray for peace for the departed soul |
| | We/I express our heart-felt condolences on this sad occasion. May the departed soul rest in peace and be a driving force to all of you/us |
| | Worth mentioning is the fact that he/she was a rare and great personality not only in business but also in social circle |
| | Whoever came into contact with him/her was impressed by his sagacity and business acumen |
Don't use certain words – Certain words or certain language can be counterproductive, especially the animated one's and those which are more philosophical than practical. Certain words may project your thoughts in a negative sense. Do not start with an advice instead use an apt quote or a wording which best describes the condolence. Your sympathy shouldn't come across as blunt; they should not pity or mention hardships. Then, some words are just Cliché's and they tend to aggravate the sorrow. It is better to understand what you intend to write and how it sounds?
Some of the words which you can avoid are provided below:
Call if you need anything / Call me if you need anything
Death leaves a heartache no one can heal, love leaves a memory no one can steal
He's / she's in a better place
He's / she's at peace now
It's part of God's plan
I know how you feel
I cannot imagine what you are going through. Please know I am here for you when you are ready to talk
I can't imagine the sadness you must be feeling from your loss.
It has been a very tough year for you. I hope you know that life has not ended for you just changed
My heart goes out to you and your family during this difficult loss
Put this behind you and get on with your life
The greatest compliment to someone who has passed, is to live your life and keep their memory alive
When someone you love becomes a memory, the memory becomes a treasure
When the sun begins to shine for you again. Please remember that life is for the living. Get out there and show the world how special you are. You are a true gift in my life
We must respect the dead and continue to live. We all have a journey and leaving a life behind is an honour
You will get over this in time
Words fall short of expressing my sorrow
With deepest sympathy
Phrases and Quotes – Using a phrase or a quote is meant to send some positive vibes and not because you have to. It also depends on what type of a person is the recipient, if the person is literary inclined, then these can be included. For some people these are just high profile words; they would rather read a simple language. If you are not sure, choose the most easy to understand ones.
To live in hearts we leave behind is not to die – Thomas Campbell, "Hallowed Ground"
We must embrace pain and burn it as fuel for our journey – Kenji Miyazawa
Oh heart, if one should say to you that the soul perishes like the body, answer that the flower withers, but the seed remains – Kahlil Gibran
He kept at true good humour's mark, The social flow of pleasure's tide: He never made a brow look dark, Nor caused a tear, but when he died -Thomas Love Peacock
When you are sorrowful look again in your heart, and you shall see that in truth you are weeping for that which has been your delight – Kahlil Gibran
The angels are always near to those who are grieving, to whisper to them that their loved ones are safe in the hand of God – Quoted in The Angels' Little Instruction Book by Eileen Elias Freeman, 1994
Applaud or Appreciate – Appreciation and applause provides a sense of pride towards the mourned. It can give a bit of relief from incessant sorrow which may overwhelm the attendees. Those affected the most need a sense of belongingness with writer as it can be a lonely time. Your stories or tales of adventure, humour etc. may reveal unknown facets of the deceased, this will infuse amusement and surprise which also try to mellow the sorrow.
Offer Advice and Help – Advice but in moderation and advice only that which is reasonable and practical, moreover which even you will follow as and when required. Same goes with the help you want to offer. Offer that which you genuinely can and not because you think you should, this will save you and reader from expectations and their subsequent effects.
Keep it Short – A sympathy letter is meant to be short as the affected people are in a state of sorrow and the reader may not focus on the letter as he/she would normally do. The length can be a page or two reflecting your genuine thoughts and feelings.
Ending – Endings have to be as good as the starting.
You can use these to end your letter as per your requirements
I will keep you in my prayers
I would like to drop by on Wednesday but will call first to see if that is a convenient time for you
I will be calling you next week to check in on you
My affectionate respects to you and yours…..
My heart and my tears are with you
My thoughts are with you and I send you my deepest sympathy
Our love is with you always
Our love and support will always be there for you
You are in my thoughts and prayers.
You know you have my deepest sympathy and my love and friendship always.
We all join in sending you our heartfelt love
We share in your grief and send you our love.
We offer our affectionate sympathy and many beautiful memories.